© 2007 - 2012 CHELAN CLOSETS - ALL RIGHTS RESERVED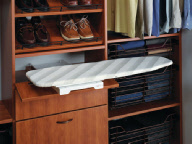 We supply only high quality closet accessories that will provide you with years of trouble-free service. You can choose from our selection of accessories that meet your particular needs. There are six available finishes (shown below) to compliment your decor.
Our Slide-Out Pant/Skirt Rack come in three widths: 18" with 12 hangers, 24" with 18 hangers, and 30" with 24 hangers. Garment clips which attach to the hangers are available for hanging skirts.
Slide-Out Pants/Skirt Rack
We can provide you with a hamper integrated into your closet system.
Slide-Out Hamper:
Features full extension slides with removable bags. Come in three widths: 18" with a single bag, 24" with 2 bags & 30" with 2 bags.
Tilt-Out Hamper:
Attaches to the back of a door panel. Hinged at the bottom, it provides easy access to the hamper. Also features removable bags. Fits 18", 24" & 30" Doors.
Ironing Board:
If you need an ironing board to keep you looking good, then here's one that's easily accessible. Open the door, pull out, unfold, and your ready to iron! The table rotates 180° for easy use.
Baskets:
All baskets have full extension ball baring slides, and baskets can easily be removed. They come in three widths: 18", 24", & 30" Baskets are 14" deep and come 6", 11" & 17" high. Available finishes are chrome, oil rubbed bronze, matte nickel, and white.
Shoe Fence:
Shoe Fences are attached to the front of adjustable shelves set at an angle to provide maximum visibility of your shoes. Shoe shelves can be incorporated anywhere in your closet system. Available finishes are chrome, oil rubbed bronze, & matte nickel.